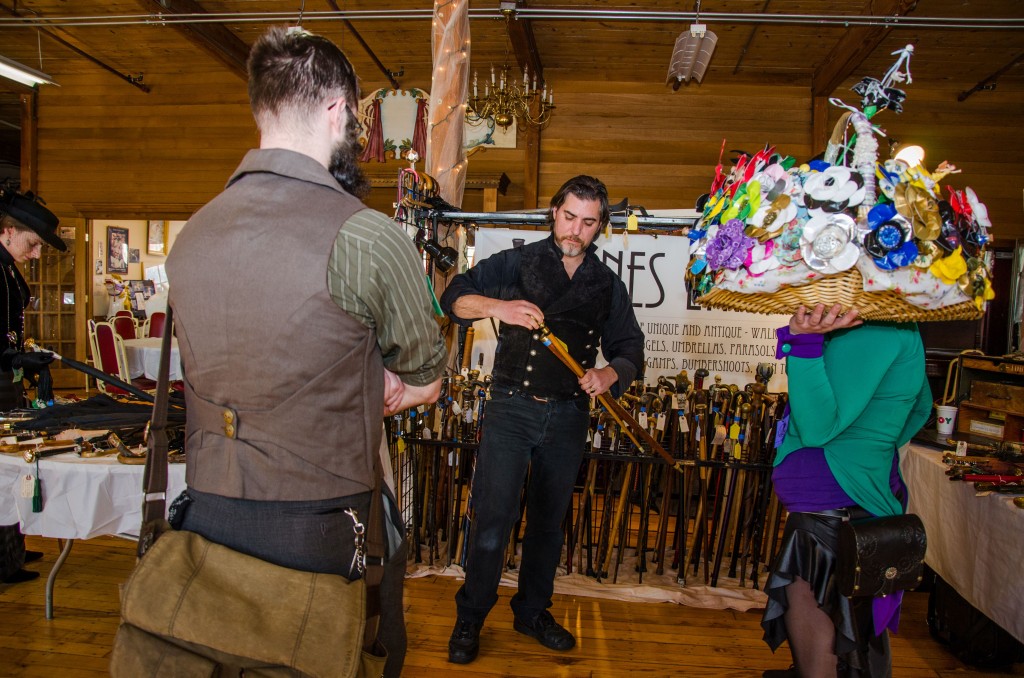 One of the hallmarks of Steampunk is creativity. The ability to think "What if,"and then go out and make that dream real. We are pleased to showcase some of the best dreamers and makers around. In that spirit, we proudly introduce our 2018 merchants!
Edibles
Oak, Ash, and Thorn Tavern- Under new management this year, so menu may differ. We'll put up a menu ASAP.
Suleiman's Turkish Delights- Turkish coffee, baklava, tea, and sodas
Other Marvels
Ad Astra Arts- Beautiful artist-made accessories: Steam and Victorian earrings, long and choker necklaces, hatpins, bracelets, lace gloves and stockings, wine charms. Unique items, elegant finishing touch!
Airship Darklords– Goggles, jewelry, and fantastic art pieces.
Auntie Arwen's Spices– Home spice blends. You can't get fresher without a garden.
Canes Enable– Antique canes, parasols, umbrellas, and perfectly innocent walking sticks
Capes and Corsets– Creating Steampunk looks for all sizes.
Coventry Decor- Barware for the grown-up geek
Doctor Gus- Props, Costuming, Jewelry & Accessories
Felix Eddy The Clockwork Sphinx– Original artwork and embroidery all made by Felix Eddy
Foresight– Tarot and pendulum readings
Horned Hare Studios– Hand felted hats, jewelry and accessories
Mermaid's Baubles-  Intricately beautiful jewelry and artwork made from collected seashells
Michael Murphy Photography– Portrait photography of you at your finest
Midnight Orchid Design– A variety of steampunk, belly dance, and up cycled clothing for all shapes and sizes. I love to work in found and repurposed objects.
Peyton Beads– Dazzling beaded jewelry and accessories
Stizzy's Emporium- Need a unique one of a kind top hat to complete your outfit? Let's talk and see what we can come up with!
Victoria Rose-  Wearable accessories, trinket boxes, wish bottles
Violet Acquisitions and Antiques- Victorian era and later functional antiques and art pieces