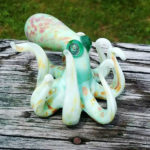 One of the hallmarks of Steampunk is creativity. The ability to think "What if," and then go out and make that dream real. We are pleased to showcase some of the best dreamers and makers around. Gentlefolk, your 2019 merchants!
Tasty Treats
Oak, Ash, and Thorn Tavern– Best pies in Bristol, and a great selection of foods to suit all preferences including gluten free and vegan
Suleiman's Turkish Delights- Turkish coffee, baklava, tea, and sodas
Other Marvels
Ad Astra Arts- Beautiful artist-made accessories: Steam and Victorian earrings, long and choker necklaces, hatpins, bracelets, lace gloves and stockings, wine charms. Unique items, elegant finishing touch!
Airship Darklords– Goggles, jewelry, and fantastic art pieces.
Another Bright Idea– Lamps and themed decor
Big Bear Trading Company-  Trade goods for time travelers
Bogelbear Art– llustrations of things that never were
Capes and Corsets– Creating Steampunk looks for all sizes.
Glass Sails– Glass art and sculpture
Greystone Bookworks- Handmade journals, boxes, and other paper related items
Doctor Gus- Props, Costuming, Jewelry & Accessories
Foresight– Tarot and pendulum readings
Kiss Designs- Garb from antique, vintage and upcycled fabrics and lace
Mayfaire Moon– Fabulous corsets made to suit your dreams
Mermaid's Baubles-  Intricately beautiful jewelry and artwork made from collected seashells
Saltbox Seasonings- Teas, herbs, spices, and accessories