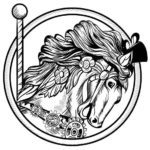 Welcome to our splendid benefit event, Brass Ring Steampunk Academy and Cabaret! We've danced and laughed and learned and created and raised thousands of dollars for the New England Carousel Museum so far, and this year promises to be even better! We are on hiatus for 2020, but will be back in 2021.
Our all-ages daytime event includes corsetry and fashion, piracy, medals, telescopes, paper quilling, Splendid Teapot racing, divination, amazing vendors and more!
This website will be updated with more event information as it is confirmed. Also, please follow our Facebook group, BrassRingCT,.