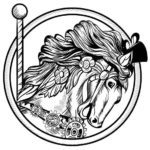 Welcome to the FIFTH year of our splendid benefit event, Brass Ring Academy and Cabaret! We've danced and laughed and learned and created and raised $3900 for the New England Carousel Museum so far, and this year promises to be even better! This year's dates are January 20-21, 2018.
With the untoward weather last year, not enough people got to experience what may have been my favorite Cabaret yet, so we're having a do-over!  The Eternal Frontier, Them Damn Hamiltons featuring Marc Casslar calling dances, White Elephant Burlesque, and headliners This Way To The Egress!
During the day, we will host presentations on topics from creating monsters to fighting them, period dancing and robots from Oz, and the invention of everything from knights in shining armor to gruesome murder! Plus, musical performances, vaudeville, an interactive storyline, amazing vendors and more!
Back by popular demand- A semi-formal AFTERNOON TEA! By even more popular demand, this time, I will share more of their impossibly delectable lemon curd. I promise. Really.
New and exciting- SPLENDID TEAPOT RACING! Bring your own remote controlled teapot, bribe the judges, put on a show, and if you're not too tired afterwards, race your teapot through an exciting obstacle course to great acclaim and even better prizes! Rules can be found at this link.
Oh, my friends, we are going to have a bountiful harvest of silly and enlightening fun. We are ten pounds of laughing gas in a five pound dirigible. I can't wait. Tickets are available at the door.