Our 2018 Academy!
Afternoon Tea- A proper British afternoon tea, with scones, clotted cream, lovely tasty cookies, those itty bitty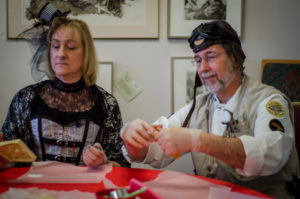 sandwiches, and, of course, tea. I MAY even be talked into sharing some of their amazing homemade lemon curd. Maybe. Tickets are limited, so sign up early! $15. With The Guild of Extraordinary Gentlewomen.
Airships!– How do they work, what can they do? With Captain Elias
Bootblacking: Leather Care and Conditioning 101– Bootblacking is the art and service of the care and maintenance of leather boots, shoes, clothing, and accessories. It is often more massage than "shoe shine." Bring and or wear an item that needs some TLC and let's have a hands-on discussion about how to care and maintain it. If you have leather care products/polishes/dyes please bring them. with Boy Andersen.
History of Hypnosis- Although much of Asia had developed hypnotism thousands of years ago, it didn't really take off in the West until 1841. Come learn the fascinating history of hypnosis, from medical miracle, anaesthetic, and cure for hysteria through modern day stage shows. With Paul Knight.
How the Victorians Invented the Renaissance Faire- The late 19th century was obsessed with the Middle Ages (or at least their own Victorian interpretation of the Middle Ages). From the works of Sir Walter Scott to the 'gothic revival' of architecture and decor; from the arts and crafts movement to pre-Raphaelite painting; from Tennyson to 'antiquarian antagonistics', medievalism infused the imaginations of the Victorian world.  Come explore the Victorian obsession and preoccupation for all things medieval, and how this fashion (in literature, art, décor, furniture, architecture, etc.) created a sort of "nostalgia" and heavily influenced our conception and imagination of our shared ancestry. With Mark Donnelly
A Hypnotic Stage Show- A modern version of a popular Victorian staged entertainment. Volunteers wanted! With Paul Knight.
Fashion Show– This year, the star of the fashion show is YOU!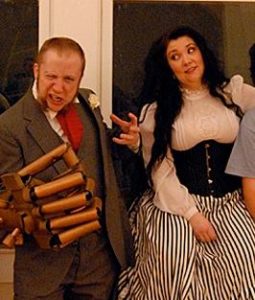 Introduction to the Red Fork Empire– ANSWER THE CALL of the Emperor to help fight the DULL so that the children of tomorrow will not be threatened by this menace. HEAR how you can join the RFE and help the effort to spread creativity and imagination throughout the Multi-verse. LEARN about the magnificent brilliance of the Emperor, who he is, and the fantastic citizens who share his cause. The Red Fork Empire is an art collective who believes that creativity and imagination is a fundamental part of being alive and to inspire others to not forget the child that is still inside them. With Miss Kitty and The Emperor.
Leather Working 101- Always wanted to learn to make leather goods? This is the class that will get you started. Learn the basic tools you'll need to get started, and see how they're used. With Scooter.
Make Your Own Medals- Learn the methods used by the Red Fork Empire to create military-style medals. $3 materials fee per medal.  With Miss Kitty and The Emperor.
Make Your Own Working Spyglass– Learn the basics of optics, then build, decorate, and take your own working Steampunk spyglass. $7. With Lauren Grover
Meet the Five – Come and witness the spectacle that is a great conjunction of dimensions whose nexus will be the Emperor of the Red Fork Empire. Here the Lord Emperor will be interviewed and interview selected members of the audience in a few of his infinite incarnations. It is absolutely not required, but highly encouraged, that those with personas act as their personas during the great conjunction. This is an improv theatrical performance with audience interaction. With Miss Kitty and The Emperor
Occultism in the Victorian Age– Learn about the rise of spiritualism, faery lore, speaking with the dead, and more. With Starwolf.
Piracy in the Age of Steam– A historical overview. With Captain Elias
Quilling Workshop- The Art of Paper Filigree- Extremely popular during our era, quilling is enjoying a modern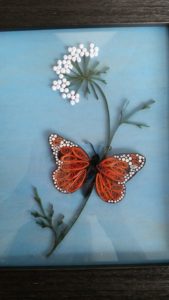 resurgence, which you will leave this class ready to take part in. Quilling, or paper filigree, is the art of bending and twisting paper to form decorative shapes. Learn three essential basic techniques for making flowers, and walk away with jewelry to wear, as well as a really good kit that contains everything you'll need to make lots, lots more. With Lauren Grover (so nobody blow anything up while she's teaching, okay) 2 hours, $30
Sailors Valentines: Love Tokens From the Sea- Take a journey back in time to the 1800s and learn about the history behind these exquisite gifts sent home by sailors.  With Melonie Massa.
Sailor's Valentine Sea Captain's Chest- Sailor's Valentine Sea Captain's Chest: Learn how to use found or bought seashells to create gorgeous works of art, just like they did in the 1800s. The sea captain's chest is a handmade wood box with a locking clasp & velvet insert. Finished boxes like this sell for $200 and up. Make your own for just $65! Class limit 8. With Melonie Massa
Sailor's Valentine Pin Workshop- Learn to embellish beautiful Victorian Kilt/Shawl Pin in the 1800's Sailors Valentine style. Participants will go home with their natural shell art creation freshly resined & boxed. The pin will need 2 days undisturbed to cure fully. The resin adds incredible strength to your finished design & also preserves the natural colors! $5 per pin (Limit 2 per student). With Melonie Massa.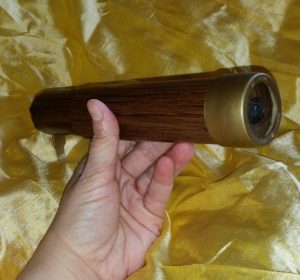 Splendid Teapot Racing- Bring your best racing teapot, wear your most dashing outfit, and do NOT forget to bribe the judges in this all-out obstacle race. No, really. Racing actual, literal teapots. There will be prizes. Come win one!  Click Here for rules, such as they are. Spectators are most heartily welcome! with Watch City Steampunk Festival
Steampunk Design Workshop/Panel- Got a technical problem with your gear? Stuck in a story? We can help. More specifically, we can help each other! Come share your stories and expertise, and maybe the group can help solve your problem. With Everybody.
Suffragitsu- Combat Techniques from Women's Literal Fight for the Vote- By 1913, the sociopolitical battle that was the British women's suffrage movement had reached a boiling point. To keep their leaders free as long as possible, as well as to protect them against run of the mill assaults by irate defenders of the status quo, the Women's Social and Political Union created a secret society known as The Bodyguard (The press called them "The Amazons") Numbering 25 or 30 athletic and dedicated women, the Bodyguard was charged with providing security at Suffragette rallies throughout the UK.  This workshop is a basic introduction to some of the techniques taught to and practiced by the Bodyguard. While gentlemen are obviously welcome to participate (as are ladies in the 'mens' workshops) some of the techniques employed by Victorian ladies studying this art vary from those taught to their male counterparts.  Partly this was physical (and partly a constraint of the fashions) but also due to the differing nature of the physical threat and the variety of accessories with which she might be equipped or encumbered. In the Ladies session, therefore, we will explore: grappling, savate, canne, parasol, fan, handbag, etc.. With Mark Donnelly
Swordcane Combat Workshop–  **WORLDWIDE PREMIER CLASS** There are three main reasons why walking sticks and canes have been produced over many centuries. These include the support or necessity for those that have walking disability, the desire to be trendy and most importantly for protection and self-defense. The popularity of a sword derives from its ability to be concealed, typically in the handle of the cane. When it comes to the use of a walking cane as a weapon, there are not many weapons you can put into action as fast as sword canes. If you find yourself in a hostile situation with no other option other than to defend yourself, you simply needs to give the handle of the blade a hard pull out of its sheath, and the blade will jump into your hand for effective action or defense. But having a ready blade and knowing with it are different things. It is not as straightforward as 'put the pointy end into the other guy'. This workshop will explore the tactical considerations applicable to the use of this most often misunderstood weapon. All equipment will be provided by the instructor, but if you have your own, especially a fencing mask, please bring it. With Mark Donnelly
Victorian Couples Dance– Get ready for the next ball, afternoon tea dance, or tonight's cabaret!!. Join us as we explore the couple dances of the Victorian Era as would have been done in New York, London, Paris, and beyond. This will be an opportunity to learn the basic couple dances of the period including the waltz, polka, and/or schottische. (Though we may focus on just one, as time and interest permit.) No experience necessary. Comfortable shoes with flexible soles (preferably leather) are recommended. With Marc Casslar.
Victorian Set Dances– Get prepared for your next night out on the dance floor (perhaps even tonight at the cabaret!!). Join us as we have fun with the set dances of the Victorian Era as would have been done in New York, London, Paris, and of course, Bristol, Connecticut. This will be an opportunity to learn some of the basic longways set dances of the period. Dances such as the Gothic Dance, La Tempete, Soldier's Joy, the Flower Girl Dance, and more. (Dances to be done will depend on time and interest.) No experience necessary. Comfortable shoes with flexible soles (preferably leather) are recommended. With Marc Casslar.
Von Voltage's Electric Snake Oil– The Professor bring his extensive collection of actual period electotherapy devices, with demonstrations of their use: Violet ray generators from the 1890s- 1950s. Electreat electrical induction massagers. Shock boxes and other samples both sensual and shocking. This presentation is in the form of a period lecture, of the type given by itinerant academics and gentlemen adventures. It will come with copies of period advertising for all to share. With Professor Victor Von Voltage.