This year, the supermodel of the Fashion Show is… YOU!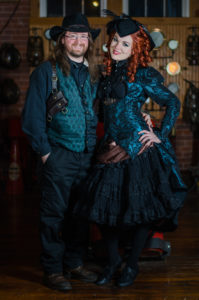 The Victorian Era is certainly known for its extravagant clothing; however, Steampunk is based both there AND in the realm of imagination. At Brass Ring this year, we want to celebrate both. Do you have a Steampunk alter-ego? Now's the time to come introduce them to us! Wear your finest, Steam-iest outfit, bring out your favorite props, and let us get to know you.  Gentleman scientist? Lady airship captain? Nonbinary undetermined I-just-like-Steampunk-person? BRING IT!
On Saturday of the event, get an entry card at the front desk when you check in. Write us a brief character history, or description of your outfit, or give us background on that item you're showing off. At 4pm, gather in the downstairs back room (opposite the ladies' bathroom) for check-in. At 4:30, we all go upstairs, and our announcer will tell everyone about your wonderful self while you do a walk around the room. There may be prizes, but there will definitely be appreciation as we get to know you.