Sunday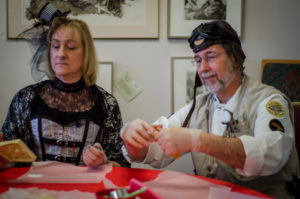 Brass Ring is known for its amazing set of teachers, who continue to delight and inform us about diverse topics of interest. However, the scope of their teaching has been limited by time and resources to just an hour per class. This year, we change all that with our Sunday intensives. Here is an opportunity to really get inside the techniques of an expert maker, create something real to become part of your Steampunk ensemble, or gain deeper knowledge of a topic.
time
Ballroom
Glo Room
Carousel Room
11
Venus Lens Cap concert
Sailor's Valentines Ornaments
12
Victorian Couple Dances
Sailor's Valentines Sea Chest
Airships for Writers
1
2
Bartitsu

Absinthe Heroes

movie showing and Psyche Corporation concert
Quilling- The Art of Paper Filigree
3
4
Victorian Set Dances
Brass Goggles
5
Venus Lens Cap- An amazing local band blending intricate synthesized sound with gorgeous vocals and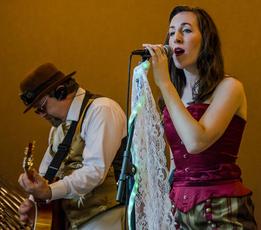 harmonies, all telling fabulous Steampunk stories. Buy or bring your breakfast, and enjoy with friends. Free!
Sailor's Valentines Ornaments- An introduction to a traditional Victorian craft from the sea. Learn how to make a shell flower, and go further to design two octagon wooden ornaments to keep.  Octagon is the traditional frame shape for the Sailors Valentines from the 1800's. Taught by Melonie Massa. 1 hour, $20
Victorian Couple Dances- Marc Casslar presents more couple's dances for everyone to enjoy. No partner needed, but do wear comfortable shoes. 1.5 hours, $20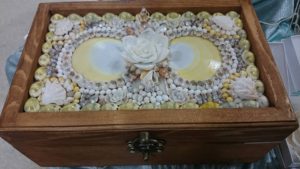 Sailor's Valentines Sea Captain's Treasure Chest- We start with an heirloom quality, 12.5″ x 9″ x 4″ wooden handmade Treasure Chest with 'Sea Captain style' latch, hinges, and chain. Chest has a recessed lid in which we will create the Sailors Valentine style seashell art. Workshop includes pre-sorted natural Seashells, use of tools & adhesives, and hands-on friendly assistance by a professional Sailors Valentine Artisan, Melonie Massa. Finished pieces like this retail for $200. 2 hours, $65.
Airships – Technology Review for Writers and others interested in a realistic presentation of an iconic SteamPunk conveyance. Overview with question and answer session by Brass Ring's nauticaul (and aeronautical!) expert, Jeff Gedney. 2 hours Free, thanks to a gift by Oak, Ash, and Thorn Tavern.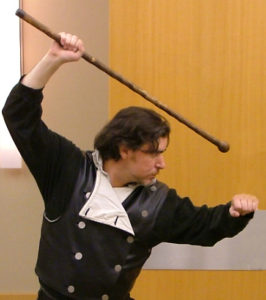 Bartitsu- A workshop for all levels, this class will be tailored to the needs, interests, and abilities of attendees. Learn the fighting style favored by Sherlock Holmes, and defend yourself with parasol, snuffboxes, or your perfectly innocent walking stick. Led by Professor Mark P. Donnelly, assisted by the Nutmeg Bartitsu Society. 4 hours $45
Absinthe Heroes- Jeff Mach's darkly humorous rock opera both satirizes and celebrates the weird, wondrous world which is Steampunk. It's got a gorgeous score by renowned Steampunk headliner Psyche Corporation, who has performed at Brass Ring for the past two years. Absinthe Heroes has been described as "a riotous blending of the ridiculous and the sublime"; "mad science in theatrical form", and "A Steampunk rollercoaster". It's chock full of surprises, plot twists, Easter eggs, and, just as things are starting to get seriously silly, it arcs into exhilarating drama and storytelling. Movie showing is followed by a concert from Psyche Corporation. Free, but please buy some popcorn to help support the museum.
Quilling- The Art of Paper Filigree- Extremely popular during our era, quilling is enjoying a modern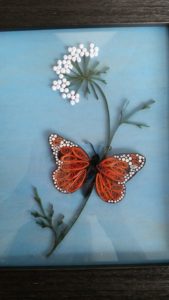 resurgence, which you will leave this class ready to take part in. Quilling, or paper filigree, is the art of bending and twisting paper to form decorative shapes. Learn three essential basic techniques for making flowers, and walk away with jewelry to wear, as well as a really good kit that contains everything you'll need to make lots, lots more. With Lauren Grover (so nobody blow anything up while she's teaching, okay) 2 hours, $25
Victorian Set Dances- Marc Casslar presents more group and pattern dances for everyone to enjoy. No partner needed, but do wear comfortable shoes. 1.5 hours, $20
Brass Goggles- Thomas Willeford will lead you through his techniques and thought process to make a real pair of leather and brass goggles, which will soon be a treasured part of your Steampunk wardrobe. 2 hours, $35. There is a 10 person limit to this class. We will be selling 9 of the places directly, and the tenth will be auctioned off at the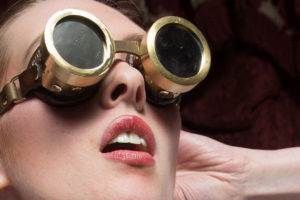 event.